Join an in­ter­na­tion­al course at the Pass­ive House In­sti­tu­te!
Tools work­shops (PHPP expert course) at the PH Institute
---
Get the latest up­dates and in­sider tricks!
3D Data Models
BiM & designPH
Gain knowledge of PHPP features for advanced users:
• Non-residential buildings
• Input of design variants
• Economic feasibility comparisons
• Energy efficient retrofits principles
• PHPP for retrofits
• EnerPHit classes: Energy efficiency and renewables for retrofits
• The EnerPHit pre-certification scheme for step-by-step retrofits
• The EnerPHit Retrofit Plan (ERP)
Are you already familiar with PHPP? Then come and explore the advantages of designPH, the SketchUp based plugin to model Passive House buildings in 3D and get to know our new export tool from BIM models to PHPP!
• How does designPH work?
• Input/analysis of a building model
• Optimization of relevant features
• Special building types: different approaches
• How does the BIM-tool work
Knowledge of SketchUP and a BIM software (Revit, ArchiCAD, Vectorworks, Rhinoceros with VisualARQ) is required
Learn more about thermal bridges and get first experiences how to calculate thermal bridges.
• Thermal bridge concept
• Use THERM
• Get a feeling for the psi value
• Typical thermal bridges in buildings
• Requirements for building certification
This course will prepare you to pass the additional PHPP expert exam. The exam itself however is not included in the course. It can be taken on one of the following dates at one of the following examination centres. On successfully passing the exam, you will receive additional certificate "PHPP expert", if you have a valid Passive House designer/consultant certificate.
The next exam is on December 4th 2020.
Mo­dule 4 - 3D Data Mod­els:    28.- 29. Janu­ary 2021
Mo­dule 5 - PHPP Ad­van­ced:    08. - 09. Feb­ru­ary 2021
Mo­dule 6 - Thermal Bridges:   25. - 26. Feb­ru­ary 2021
Ex­am PHPP ex­pert:      Fri­day 18 June 2021
(Mod­ules 4-6 pre­pare for the ex­am to be­come a PHPP ex­pert.)
Course times: 12:00 to 16:30 CET. Please check the times in your time zone.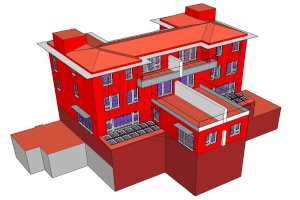 > Course price schedule
Re­gister and pay be­fore 18 Decem­ber to get up to 15% early bird dis­count! iPHA mem­bers get 10% dis­count while stu­dents get 50% dis­count. The dis­counts can­not be com­bined. The highest pos­sible dis­count will be gran­ted.
PHPP Expert. Full course (incl. 19% VAT)
|   | Student | IPHA member | Early bird | Standard fee |
| --- | --- | --- | --- | --- |
| PHPP Expert. Full course. Module 4-6 | 475€ | 855€ | 807€ | 950€ |
| PHPP Expert exam | 250€ | 450€ | 425€ | 500€ |
Workshop modules (incl. 19% VAT)
|   | Student | IPHA member | Early bird | Standard fee |
| --- | --- | --- | --- | --- |
| 3D Data Models | 175€ | 315€ | 298€ | 350€ |
| PHPP Advanced | 175€ | 315€ | 298€ | 350€ |
| Thermal Bridges | 175€ | 315€ | 298€ | 350€ |
| PHPP Expert exam | 250€ | 450€ | 425€ | 500€ |